Prefab House Used in Malaysia Highway Project
Malaysia Highway Project T Type Steel Prefab House building, Prefab Steel Warehouse, The steel structure framework is a square tube and belongs to the light steel system, square meters: 1500.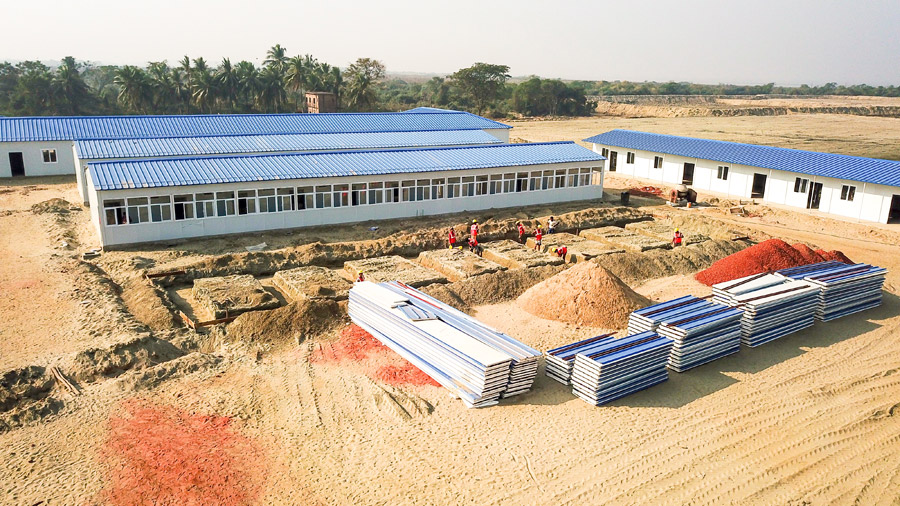 Malaysia is a country that is experiencing rapid urbanization, with infrastructure development being a key aspect of the country's growth. One such project is the Malaysia Highway Project which required the construction of T Type Steel Prefab House Building and Prefab Steel Warehouse. ZT Housing was tasked with the construction of the Prefab Steel Warehouse that covers an area of 1500 square meters.
ZT Housing is a leading manufacturer of prefabricated steel buildings and a reliable supplier of high-quality prefab structures. Over the years, the company has been involved in various infrastructure development projects across the globe, gaining valuable experience in the industry.
One of the reasons why prefab steel buildings are gaining popularity is due to their speed of construction and cost-effectiveness. Prefabricated buildings are manufactured in a controlled environment, which reduces the need for on-site construction. Assembling the pre-fab parts is much faster than traditional construction, resulting in lower construction costs and reduced disruption to the surrounding area.
The Malaysia Highway Project is an excellent example of how prefabricated steel buildings can be used to deliver quality infrastructure projects quickly, efficiently and with minimal disruption to surrounding areas.
ZT Housing's expertise in the field of prefabricated steel building construction has resulted in the successful construction of the Malaysia Highway Project's Prefab Steel Warehouse. The project was completed within the given timeframe, and the structure has been built to last. The T- Type Steel Prefab House Building is also a testament to the company's ability to deliver high-quality structures that meet the needs of their clients.
Prefabricated steel buildings are also environmentally friendly, as they require less energy to construct and are 100% recyclable. ZT Housing's commitment to sustainability has seen the company implement eco-friendly practices into their manufacturing processes, resulting in buildings that are energy-efficient and environmentally sustainable.
ZT Housing's involvement in the Malaysia Highway Project highlights the company's ability to deliver high-quality prefabricated steel structures that meet the needs of its clients. With a commitment to sustainability and a wealth of experience in the industry, ZT Housing is an ideal partner for any infrastructure development project that requires cost-effective and environmentally-friendly solutions.